Patients with a weak chin are commonly seen in a facial plastic surgery practice. A wide variety of patients (i.e young/old, male/female) with weak chins are potential candidates for chin augmentation, since chin augmentation not only improves a weak chin, but secondarily may improve the appearance of other facial areas such as the nose and neck.
Cosmetic surgery for the chin
Cosmetic chin procedures fall in three general categories:
injectable facial filler – hyaluronic acid gel (ex. Juvederm®, Voluma®, Restylane®), calcium hydroxyapatite (Radiesse®)
chin implant surgery – silicone, porous polyethylene (Medpor®), polyethylene terephthalate (Mersilene®)
jaw bone surgery – titanium with sliding genioplasty or orthognathic surgery
Facial plastic surgeons generally perform all types of chin augmentation procedures, but chin augmentation with an implant is the most popular technique for permanent chin augmentation.
Chin liposuction, better known as neck liposuction, is another procedure to enhance the chin. However, chin liposuction primarily reduces neck fat which then secondarily improves appearance of the chin. Neck liposuction is commonly combined with chin implant surgery to refine the jawline, neck, and chin.
Facial filler injections to improve the chin
An injectable facial filler with a hyaluronic acid gel is often used as part of a "liquid lift" to enhance the chin. Chin injections take only a few minutes and normally have minimal, if any, bruising. Patients can immediately return to work if desired. Results with filler injections for the chin, similar to lip injections, last about six months. The degree of change correlates with the volume injected, but usually tends to be more subtle as compared to chin implant surgery.
Non-surgical chin augmentation with filler is appropriate for patients who aren't ready for surgery. Alternatively, patients who want to experience an augmented chin before committing to surgery should consider injectable filler.
Chin implant surgery
Chin implants come in a variety of sizes (ex. small to extra-large) and shapes (ex. extended, square, and curvilinear). While different materials are used in chin augmentation (ex. silicone, porous polyethylene, Medpor®), silicone implants are the most commonly used in cosmetic surgery offices.
Chin surgery takes less than an hour and performed via "twilight anesthesia" or IV sedation. Most discomfort is the few first hours or day and described as "pressure" by most patients. Patients can return to work soon if desired, but most patients wait a few days before returning to the office.
Filler vs. Implant for Chin Augmentation
All soft tissue fillers are gels that are injected into the face, and therefore cannot provide the same support as a solid implant. Over filling with injections to try to achieve adequate chin projection may result in an ill-defined, puffy, or doughy chin, which isn't desirable. While facial fillers have revolutionized the field of dermatology and plastic surgery, surgically inserted silicone implants still provide a better 3D structure to the face.
Chin implants have a longer recovery period and higher initial cost. Patients may have a difficult time deciding the "right" size or shape implant, since it's a permanent procedure and would require another surgery to change the implant. There isn't a similar risk in choosing facial filler injections, as patients can try different fillers in the office.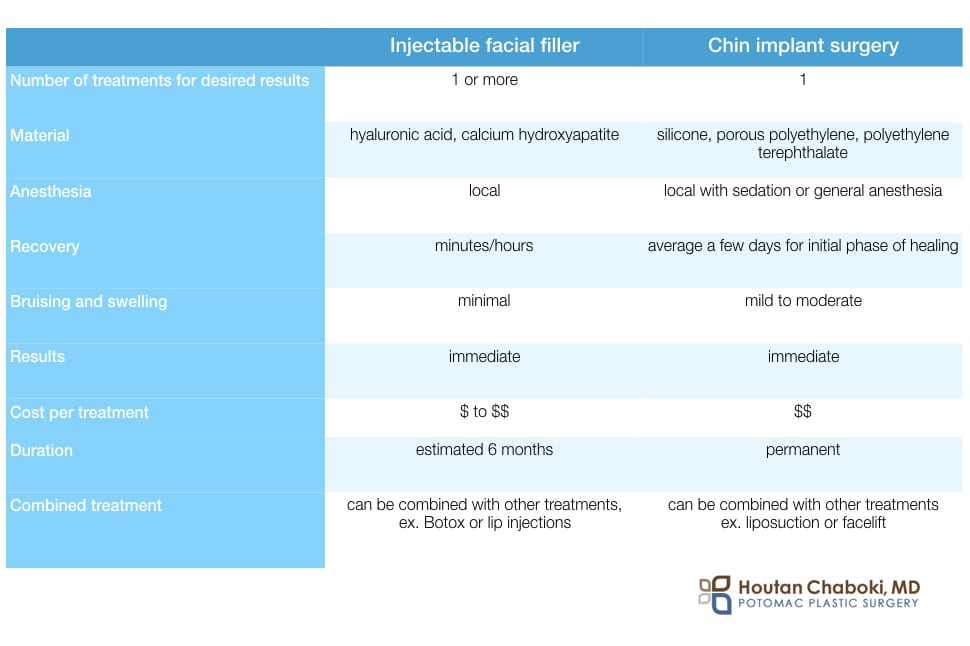 Which is better? As with any plastic surgery procedures, there isn't one "best" option. Some patients do better with injections, while some patients are better candidates for cosmetic surgery. Lastly, some patients try fillers first, then do chin implant later. A consultation with a cosmetic surgeon who performs a variety of non-surgical and surgical treatments can help determine an appropriate approach for each person.
Have you considered chin augmentation? You can speak with a facial plastic surgeon to review options with you.