Potomac Plastic Surgery: Houtan Chaboki, MD
2311 M Street, N.W. Suite 501
Washington, DC 20037
Phone: (202) 800-2085
Monday - Friday: 8 a.m.–4 p.m.

Our Office
Potomac Plastic Surgery has a new location in the heart of Washington, DC. At this brand-new facility, double board-certified facial plastic surgeon Dr. Houtan Chaboki performs aesthetic procedures for men and women from Arlington, VA; Silver Springs, MD; and throughout the metro DC area.
This modern, conveniently located facility provides a discreet, comfortable, and state-of-the-art setting for attentive cosmetic care. From the moment you arrive, you'll be treated with warm, unhurried attention that embodies our values of integrity, safety, and service.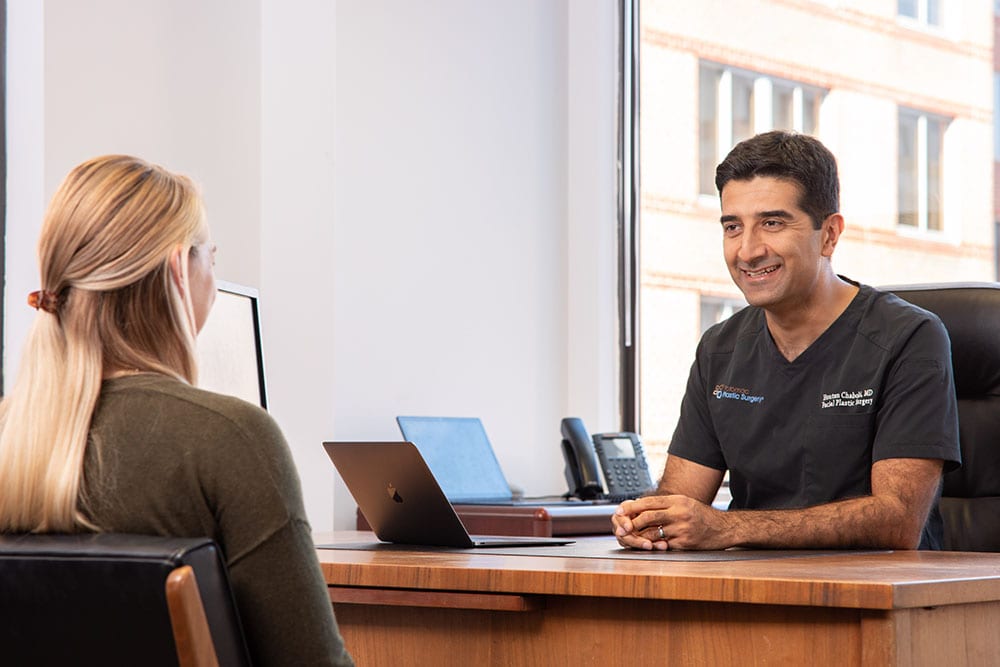 In the office, Dr. Chaboki and his staff perform services such as BOTOX® Cosmetic and dermal fillers. Dr. Chaboki may also perform surgical enhancements that require only local anesthesia, such as eyelid surgery (blepharoplasty), minor facelift procedures, and minor rhinoplasty procedures.
If your procedure cannot be performed right in our office, you will be treated at one of several local surgery centers.
A Reputation Built on Results
I had an incredible experience at Potomac Plastic Surgery. The staff was incredibly kind and welcoming,...
The whole experience was so easy and comfortable! Dr.Chaboki and his whole staff are so kind and make...
I had the most amazing experience with Dr. Chaboki and his staff. I had a medical and cosmetic procedure:...
Surgery Centers
Dr. Houtan Chaboki performs surgery at several locations. When choosing where he will perform surgery, safe and modern facilities are a "must." For this reason, you can be certain that your cosmetic or reconstructive facial plastic surgery procedure in Washington, DC, will be performed in an accredited facility that meets even the most stringent standards.
Georgetown University Medical Center, accredited by the Joint Commission on the Accreditation of Healthcare Organizations (JCAHO).
MedStar Surgery Center, accredited by the Accreditation Association for Ambulatory Healthcare (AAAHC).
The George Washington University Medical Center, also accredited by JCAHO.
Sibley Memorial Hospital, accredited by JCAHO.
Washington DC Hand & Upper Extremity Ambulatory Surgery Center (DCHUX).
To learn more about Potomac Plastic Surgery's services and facilities in the metro Washington, DC, area, please request a consultation online or call us at (202) 800-2085.