Potomac Plastic Surgery: Houtan Chaboki, MD
2311 M Street, N.W. Suite 501
Washington, DC 20037
Phone: (202) 800-2085
Monday - Friday: 8 a.m.–4 p.m.

Brow Lift
Heavy, low eyebrows can cause you to look perpetually tired or angry. The brows gradually descend over time for a variety of reasons, including the natural aging process, sun damage, and genetics. Double board-certified facial plastic surgeon Dr. Houtan Chaboki performs brow lift surgery, also called a forehead lift, in Washington, DC, to help women and men look rested and youthful again. He specializes in a minimally invasive endoscopic brow lift technique that offers patients from Arlington and Ashburn, VA; Bethesda and Chevy Chase, MD; and surrounding cities distinct advantages over traditional methods.
Dr. Chaboki focuses his practice exclusively on facial plastic surgery. To learn more about brow lift surgery and other procedures that can minimize the signs of aging, request your cosmetic consultation with Dr. Chaboki online or call his office at (202) 800-2085.
Brow Lift Improvements
A brow lift is cosmetic plastic surgery of the eyebrow and forehead area that provides one or more of the following improvements:
Raises the middle and outer portions of the brows
Tightens sagging skin
Removes bulging fat
Lifts drooping upper eyelids
Smoothes forehead wrinkles
The procedure can rejuvenate a patient's facial appearance by opening up the area around the eyes and creating a smoother forehead. The aesthetic result is a more youthful, relaxed, and refreshed appearance.
How Much Does a Brow Lift Cost?
In Washington, D.C., most brow lifts cost between $5,000 and $10,000*. After your consultation, a member of our staff provides you with a written quote that reflects the specifics you and Dr. Chaboki discussed. Visit our Fees & Financing page to learn more about paying for your brow lift.
Brow Lift & Upper Eyelid Surgery
Patients are often uncertain about whether a brow lift or eyelid surgery will give them the improvements they want. Dr. Chaboki assesses the eyelids, especially the upper eyelids, when determining whether a patient may benefit from brow lift surgery.
To rejuvenate the upper third of the face, some patients need a brow lift alone, some need upper eyelid surgery, and some need both brow lift and upper eyelid surgery. As a facial rejuvenation specialist, Dr. Chaboki is able to determine the unique needs of each patient.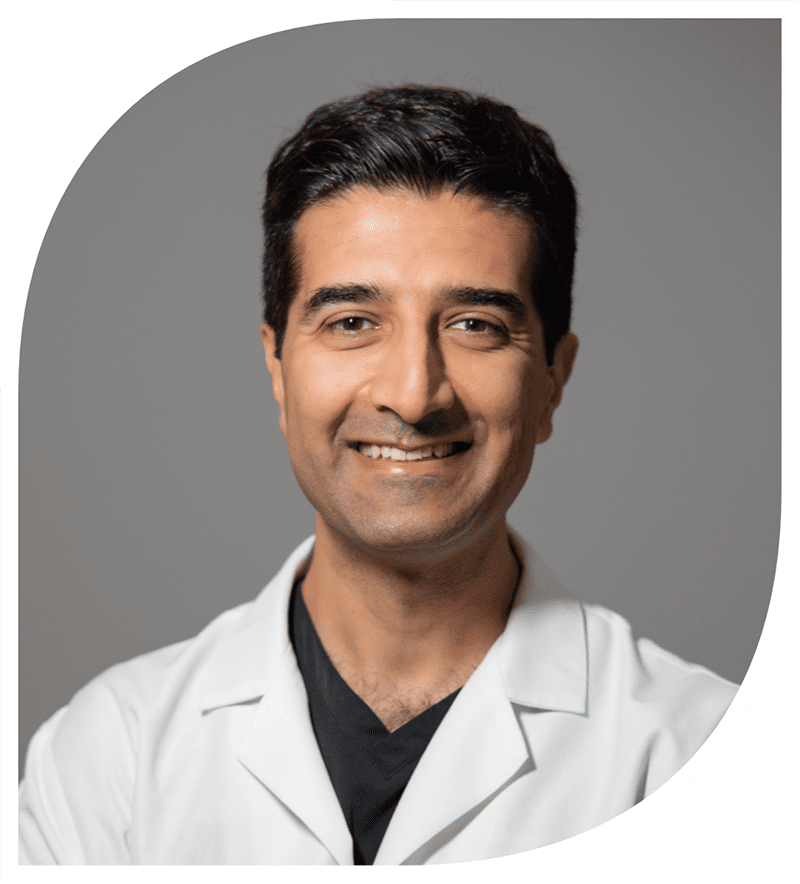 Houtan Chaboki, MD
Double Board-Certified
Facial Plastic Surgeon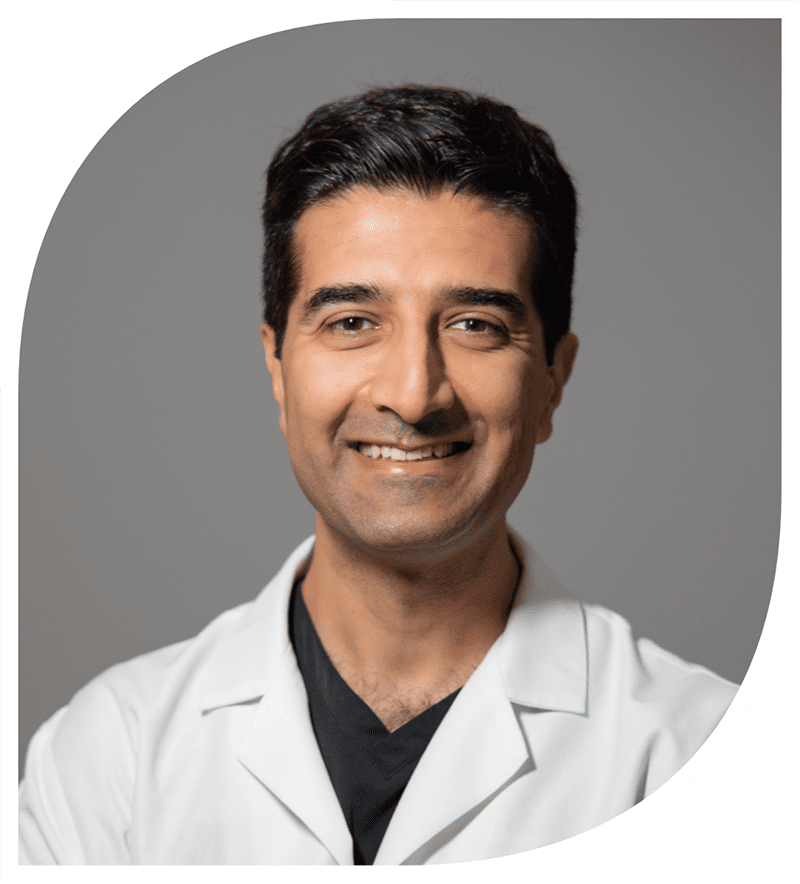 Certified by both the American Board of Otolaryngology and the American Board of Facial Plastic and Reconstructive Surgery, Dr. Chaboki has extensive knowledge of the intricacies of the face and neck. When you choose him for your procedure, you're choosing one of the most reputable facial plastic surgeons in DC, as well as a nationwide leader in preservation rhinoplasty.
Types of Brow Lifts
Dr. Chaboki is trained and experienced in many variations of the brow lift procedure. After a comprehensive evaluation, he will recommend the options best suited to you based on your areas of concern, the amount of correction you would like to achieve, and your underlying facial anatomy. Brow lift options include:
The traditional brow lift, also called a coronal brow lift or complete brow lift, involves an incision behind the hairline that typically runs across the top of the head from ear to ear. A strip of scalp is usually removed during this procedure.
The endoscopic brow lift, also called a minimally invasive brow lift, involves small incisions hidden in the hairline
The lateral brow lift, also called a temporal brow lift, raises only the outer portion of the eyebrows and involves incisions placed about 1 to 2 centimeters behind the hairline at the temples that can range from 2 to 10 centimeters long.
The nonsurgical brow lift is performed with BOTOX® Cosmetic injections to temporarily lift the outer brows by relaxing the facial muscles that pull the brows down. The results are typically more subtle than those from surgery.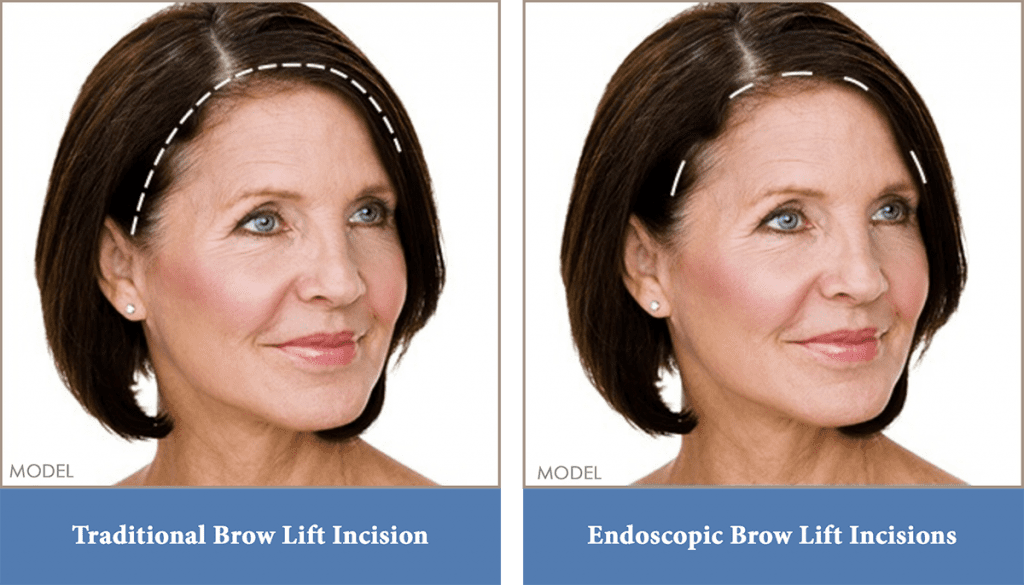 Advantages of the Endoscopic Technique
Although the endoscopic approach is technically more demanding and requires more specialized training, Dr. Chaboki prefers this technique because it offers several advantages over the traditional technique, including:
Smaller incisions
Less invasive
Lower rate of complications
Reduced scarring, bruising, bleeding, swelling, itching, and numbness
Faster recovery
Comprehensive Facial Rejuvenation
Dr. Chaboki performs a variety of surgical and nonsurgical procedures to reduce the signs of aging. He can perform these procedures individually or along with a brow lift. Options include:
Facelift tightens lax skin and lifts sagging cheeks and jowls.
Eyelid surgery of the upper and lower eyelids removes sagging upper eyelid skin and reduces puffy under-eye bags.
Med spa treatments, such as facial fillers, chemical peels, and BOTOX Cosmetic, provide nonsurgical rejuvenation for patients who are not ready for cosmetic surgery.
Dr. Chaboki will review your options during your comprehensive evaluation and determine a treatment plan that addresses your unique needs and cosmetic goals. Visit his Facial Rejuvenation Overview page for additional information.
How Is Brow Lift Surgery Performed?
Brow lift surgery is an outpatient procedure that typically takes less than one hour to perform. During the endoscopic brow lift procedure, Dr. Chaboki may insert a small video camera (endoscope) into several small incisions placed just behind the hairline. The endoscope provides him with a clear view of the muscles and tissues beneath the forehead skin. Dr. Chaboki then inserts another instrument through one of the small incisions to lift the skin and remove or alter the brow muscle, if necessary.
During an endoscopic procedure, the eyebrows and forehead can be lifted and secured at the optimal height through the use of an advanced, suture-less mechanism called the Endotine® Forehead fixation device. Each Endotine device dissolves gradually following surgery while the tissues heal in their new, lifted position.
Recovery After Brow Lift Surgery
After brow lift surgery, patients commonly experience a mild headache, rather than pain, which is usually manageable with prescription pain medication. The endoscopic brow lift causes less discomfort than traditional brow lift surgery.
You will experience a certain amount of swelling and bruising for the first week or 2 after your procedure. As the incisions heal, you may experience some numbness or itching, both of which are normal and diminish with time. You can expect to resume light activity within a couple of days after brow lift surgery.
Most brow lift patients are very pleased with their refreshed and rejuvenated appearances. It may take several weeks to see the final results, but your new look will be well worth the wait.
How Long Do Brow Lift Results Last?
Although you will appear younger for a long time after brow lift surgery, it cannot stop the aging process. You should continue to see Dr. Chaboki for skin care and maintenance of plastic surgery results.
For detailed information about this procedure, visit Dr. Chaboki's Brow Lift FAQ page.
* Price information is an estimation and individual pricing will vary. All prices are subject to change and costs are non-refundable.
A Reputation Built on Results
Had to reset a broken nose - could not have picked a better doc - I am so deeply grateful to have gone...
I had a liquid rhinoplasty. Dr. Chaboki was not only welcoming and informative, he was detailed in every...
I had such a great experience with Dr.Chaboki! I went in for a non surgical rhinoplasty. I was so nervous...
Back to Top