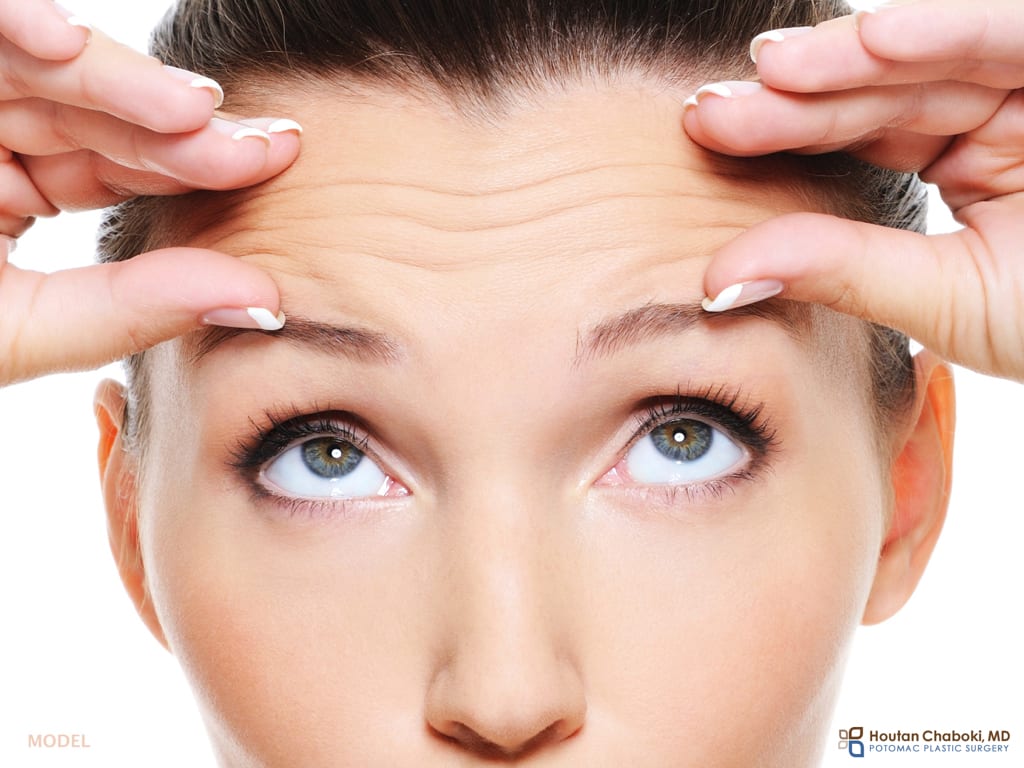 Women and men typically start to consider upper eyelid surgery due to natural aging in their 40's. While some patients may benefit from eyelid surgery at an earlier age, patients more commonly have upper eyelid area surgery after age 40.
An upper blepharoplasty (i.e eyelid surgery) removes excess skin and fat from the top eyelid, but does not directly change the eyebrow. A brow lift lifts the eyebrow, primarily from the sides of the brow but may also improve the area closer to the nose too. For some patients, a brow lift alone may help improve the appearance of the upper eyelid without blepharoplasty. For others, a upper blepharoplasty combined with brow lift surgery is performed at the same time for facial rejuvenation.
How does a patient decide on whether a brow lift, upper blepharoplasty, or both procedures is the more appropriate option for them?
Upper eyelid surgery
Upper blepharoplasty is probably one of the most common cosmetic surgery procedures performed by facial plastic surgeons. Upper blepharoplasty is a relatively minor procedure that is performed via local anesthesia, which we previously reviewed here. Upper eyelid surgery takes about an hour and has minimal recovery. Upper blepharoplasty often removes skin, but may also lift muscle and reduce eye fat too, as appropriate. Below is an example of a woman who had upper eyelid surgery via local anesthesia. She looks naturally refreshed and is very happy with the results.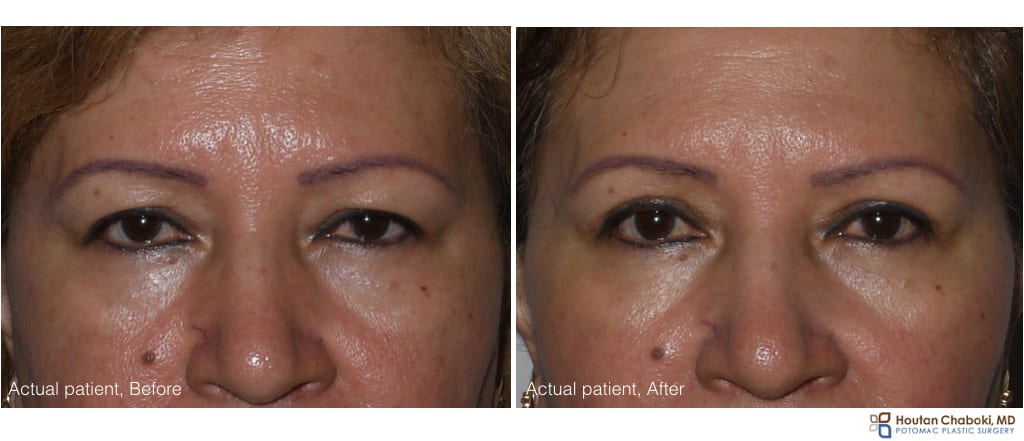 Limited incision brow lift
Unlike traditional brow lift surgery from years ago that involves an incision across the entire forehead, the endoscopic or limited incision brow lift is a minimally invasive technique of lifting and stabilizing the eyebrows. Plastic surgeons perform minimally invasive plastic surgery through very small incisions hidden in the scalp hair for a refreshed appearance. Brow lift surgery lifts, repositions, and stabilizes sagging upper eyelid area tissue that occurs with natural aging and sun damage.
Limited incision brow lifts or endoscopic brow lifts (i.e. endobrow) usually takes under an hour via local anesthesia with IV sedation. Skin is not removed with this type of brow lift. By lifting the eyebrow, less redundant skin is in the upper eyelid area.
The woman in the photograph below had upper eyelid surgery several years ago. She was not a brow lift candidate initially during the eyelid surgery, but she continued to age naturally with time. She later underwent an endoscopic or limited incision brow lift to further improve the upper eye area, years after upper eyelid surgery. No incisions were placed in the upper eyelid, and no skin was removed to rejuvenate the upper eye area.
Benefits of an endobrow or limited incision brow lift, as compared to traditional brow lift surgery:
smaller incisions
reduced scarring, bruising, bleeding, swelling, numbness, and hair loss
faster recovery
Combined upper eyelid surgery with limited incision brow lift
Generally, brow lift surgery and blepharoplasty are performed at the same time if necessary. One benefit of combined surgery is only going through one recovery period rather than two separate recovery periods. The other benefit of combined surgery is that for some patients the eyebrow may drop lower after upper blepharoplasty alone unless it's stabilized or lifted with a limited incision brow procedure.
Below is a woman who always had low set eyebrows that worsened with time. In addition, she developed excess skin and a droopy upper eyelid. She wanted to rejuvenate the appearance of both the eyes and eyebrow. She underwent both upper blepharoplasty and brow lift surgery, as she would have had unsatisfactory results if she only had either procedure alone.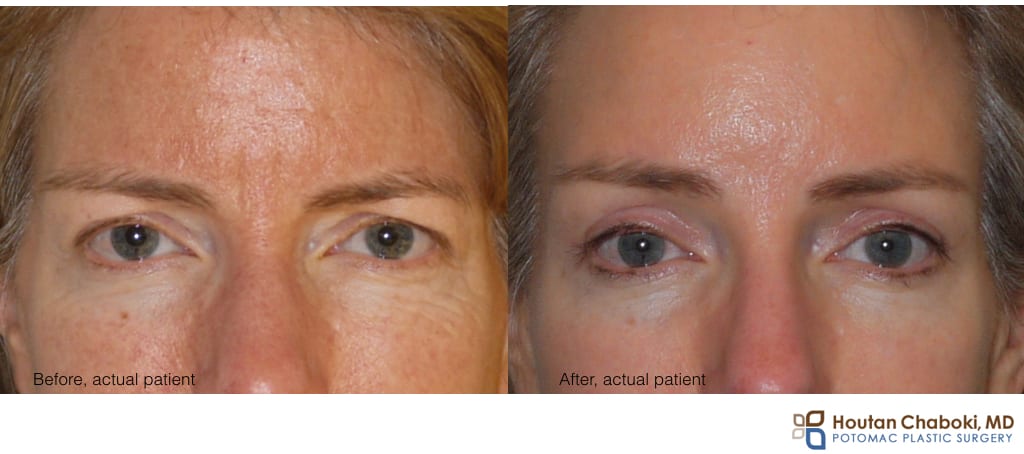 If I can't do both at the same time, which should be done first, upper blepharoplasty or brow lift?
Some patient are unable to or don't want to perform both procedures. If performed separately, many plastic surgeons may recommend performing the upper eyelid surgery first, then followed by brow lift at some point in the future, perhaps combined with a face lift or other procedure. There isn't one right answer, as each patient is unique. The decision to which procedure to perform first is determined by office examination and consultation with your plastic surgeon.
Are there alternatives to actual cosmetic surgery?
Yes, but non-surgical treatments to lift the eyebrow are more often temporary with more subtle results. Botox®, Dysport®, and Xeomin® are office treatments that not only soften wrinkles in the forehead, but may also improve the upper eyelid area by lifting the brow. These cosmetic injections must be performed every few months to maintain results.
In addition, there are "skin tightening" devices that use energy (ex. heat or ultrasound) to "lift" an area. The results with these non-surgical devices develop gradually with time and are also subtle, for those who may appreciate results.
How does one decide?
The decision for plastic surgery is a mutual decision between patient and plastic surgeon. Based on physical anatomy and patient preferences (cost, recovery, anesthesia, etc), the plastic surgeon will suggest an appropriate option for the patient to consider.
Plastic surgery of the eyes is very popular to improve one's appearance. – Houtan Chaboki, MD
Have you thought of upper eyelid or brow plastic surgery? Share your questions below.