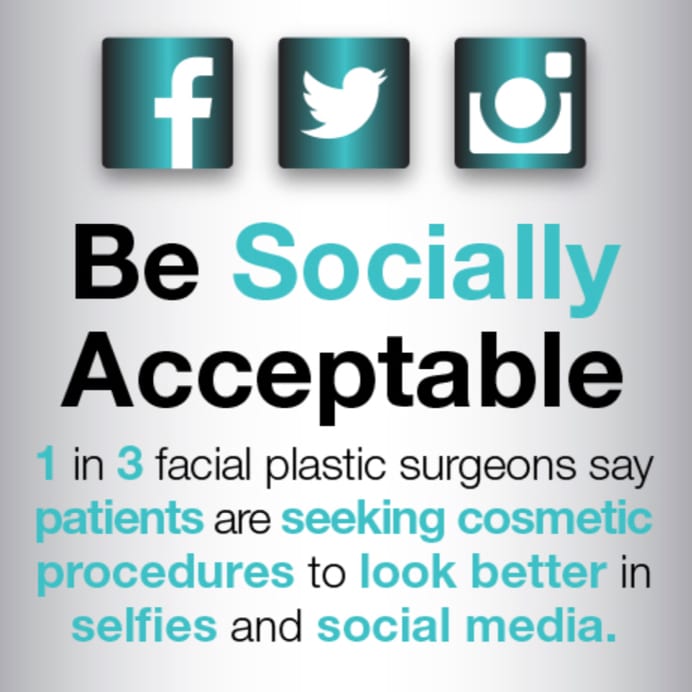 Social media has increased the number of patients seeking facial plastic surgery in Washington DC and across the world! According to the 2015 survey performed by the American Academy of Facial Plastic and Reconstructive Surgery, 1 in 3 facial plastic surgeons say patients are seeking procedures to look better in selfies and social media. This plastic surgery survey questioned its members, board certified surgeons who specialize in plastic surgery of the face, head, and neck.
The exponential rise of video and photos via telephones and tablets has made everyone more notice their double chins, wrinkled skin, and eye bags. In addition, one's face tends to look worse with tilting the chin downward toward the camera and poor lighting with these electronic devices. We previously discussed this modern phenomena associated with the "facetime facelift".
As a Washington DC facial plastic surgeon, I have not yet had a patient specifically requesting a rhinoplasty or Botox® to improve their online profile photograph. However, I've seen many patients who have noticed characteristics of their face they would like to improve after repeatedly seeing their face in various photographs. This trend will likely continue for the foreseeable future as photos and video continue to increase, and we become increasingly aware of our appearance.
Have you thought of plastic surgery after seeing yourself over and over again in photos? Share your thoughts below.