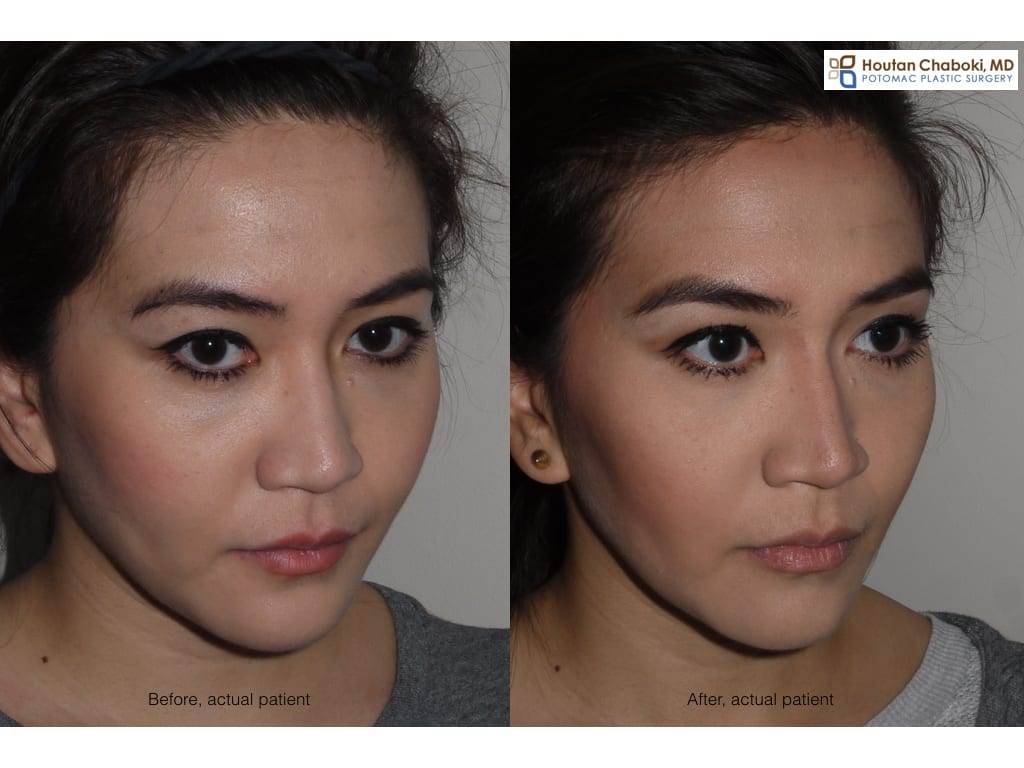 Non-surgical cosmetic facial treatments continue to increase in popularity. We covered this trend in previous blog posts. Other than wrinkle relaxers (ex. Botox®, Dysport®, Xeomin®), facial fillers are the next most common non-surgical facial treatments. Wrinkle relaxers temporarily reduce wrinkles around the eyes. Facial fillers are injectable gels that are placed in a variety of places in the face to reduce wrinkles and improve one's appearance.
Wrinkle relaxers and facial fillers are usually FDA approved within the US for specific use in a particular facial area. "On-label" means using a drug or device in the specific manner as approved by the FDA. When a plastic surgeon or dermatologist perform non-surgical facial treatments as "off-label", they are using the drug or device in a different manner. Physicians use their professional opinion and experience in a safe manner to help a patient achieve their desired aesthetic result.
What does off-label mean?
The FDA regulates approval, not specifically the actual prescribing or use of drugs/devices. Physicians are free to prescribe or use a drug/device for any professionally appropriate reason. It is impossible for the FDA to actually approve the nearly infinite possible uses of the numerous drugs and devices currently available or being developed. Off-label practice of medicine is so common, that essentially every FDA drug/device has been used off-label in some circumstances for patients.
The practice of medicine and cosmetic surgery takes into account the best interests of the patients, and physicians use what is available at the time according to their judgement and knowledge to achieve the best result and minimize risks. Doctors are permitted to use FDA approved drugs/devices in off-label ways as appropriate.
A recent survey from the RealSelf Doctor Insights panel revealed that approximately 1 out of every 3 of cosmetic specialists (ex. plastic surgeons, dermatologists, facial plastic surgeons) use facial fillers in off-label manner. Other studies in non-cosmetic fields of medicine also showed high rates of off-label use of drugs/devices.
However, companies that make facial fillers or wrinkle relaxers can only speak about FDA approved uses. These companies cannot market or promote drugs/devices for off-label use. There are serious penalties and fines to the pharmaceutical companies and device manufacturers if they do. For example, Allergan, the company behind Botox, plead guilty in 2010 and agreed to pay $600 Million to resolve allegations of off-label promotion of Botox.
How are wrinkle relaxers and facial fillers used in off-label manner?
Juvederm® is only FDA approved for cosmetic improvement of nasolabial folds (ie. smile lines from nose to lip) and lips. Juvederm is not FDA approved in other areas for cosmetic purposes, such as cheek augmentation. However, plastic surgeons and dermatologists have used and will continue to use Juvederm for years in the cheeks to provide natural cheek enhancement.
Plastic surgeons don't use these cosmetic labels haphazardly. Plastic surgeons still use cosmetic treatments in a safe and effective manner and have been doing so for years. Facial fillers can be considered as a "clay" that the plastic surgeons use to help sculpt the face for youth and beauty.
In addition, a period of time and study of a drug/device such as a facial filler needs to be used in an off-label manner before it would ever be approved by the FDA. For example, Botox was initially only approved for cosmetic improvement of frown lines between the eyebrows, then years later Botox received FDA approval for the crow's feet wrinkles even though dermatologists were already using Botox off-label for years. Botox is still not yet FDA approved for forehead wrinkles, but dermatologists are routinely treating the forehead with Botox, which is still off-label.
The photograph above demonstrates before and after photograph of Botox jaw reduction, where the wrinkle relaxer Botox has been used in off-label manner to sculpt the face. After photograph show a more defined face that appears less "fat". Plastic surgeons and dermatologists have been using wrinkle relaxers, such as Botox and Dysport, for years in this manner for facial sculpting.
Where can I get more information?
You can always check the US FDA website for more detailed information on drug/device approval process, in addition to the pharmaceutical companies that manufacture the non-surgical treatments. Below are the larger pharmaceutical companies that provide various brand-name cosmetic wrinkle relaxers and facial fillers, with the respective drug/device name.
Allergan – Botox®, Juvederm®, Kybella®
Galderma – Dysport®, Restylane®, Sculptra®
Merz – Xeomin®, Belotero®, Radiesse®
Lastly, always check with your physician.
Share your thoughts below.