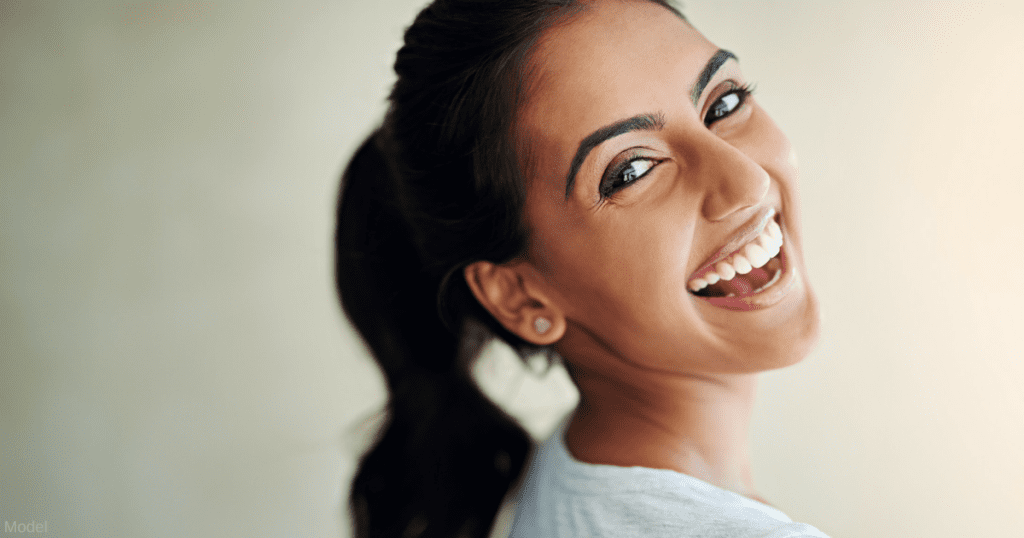 Who doesn't want a good looking neck? In addition to purely cosmetic reasons, some studies have shown that higher percentage of C-suite individuals have a defined neck and jawline. Your neck profile matters!
Many patients seriously want to improve their neck, but may not by interested in treating other areas of the face. The neck is a very common area of cosmetic concern for a broad population of potential patients, including young/old, men/women, new to cosmetic surgery / seasoned with cosmetic surgery, retired / busy professional, etc. Some patients think that only a facelift can improve the neck profile and didn't realize that non-surgical facelift type procedures are available.
We've previously discussed surgical neck lift procedures, such a facelift, chin augmentation, and neck liposuction. These are great procedures for essentially permanent improvement of the neck profile. However, not every patient wants or is ready for plastic surgery. Very busy professionals simply may not have even a day or so for surgical recovery. As a result, the best plastic surgeons in DC also offer non-surgical options for these patients.
The profile of one's neck and jawline can be improved without surgery, thus avoiding a facelift in appropriate patients. – Houtan Chaboki, MD
Defining the neck
The neck involves the region from the jawline and chin toward the collar bone. The neck has many anatomic structures which contribute to varying degrees to submental fullness, otherwise known as a double chin. Each anatomic part of the neck, i.e. fat, muscle, skin, bone are treated differently. As a result of factors such as neck tissue position and volume, the neck profile may appear full or round with poor definition of the chin and jawline. Significantly loose skin still requires surgery with a facelift or neck lift, but fat and muscle tissue can be treated with a non-surgical facelift.
Fat contouring with Kybella®
Kybella helps reduce neck fat through a series of office injections. Results develop gradually over several weeks as the neck fat goes away. This method of profile improvement can help those who were born with excess neck fat or developed extra fat from age. Read further about neck liposuction vs. Kybella injections for neck contouring in a prior blog article.
Wrinkle relaxers Botox® and Dysport®
Everyone knows that wrinkle relaxers such as Botox and Dysport can improve wrinkles around the eyes and forehead. However, wrinkle relaxers can help improve the neck too.
A Nefertiti lift uses wrinkle relaxers to help relax the neck muscles that pull down the neck and chin, allowing the facial muscles to then lift the neck tissue upward. Vertical neck lines or bands from the platysma muscle can also soften with these injections. These non-surgical neck lift treatments with wrinkle relaxers are temporary and last a few months.
Injectable fillers Belotero®, Juvederm®, Restylane®
Injectable fillers are gels which add volume to fill out lines and folds of the neck. Horizontal or transverse neck creases can be present from a young age and not directly related to body habits. Office injections of fillers into the skin itself helps reduce the appears of the neck lines.
These injectable fillers can also augment a weak chin, which secondarily can improve the appearance of the neck and jawline. Chin injections are good options for those who have insufficient chin bone structure, often present from a young age. All these non-surgical filler treatments last approximately several months. Read more about chin augmentation with filler vs. implant in prior blog post.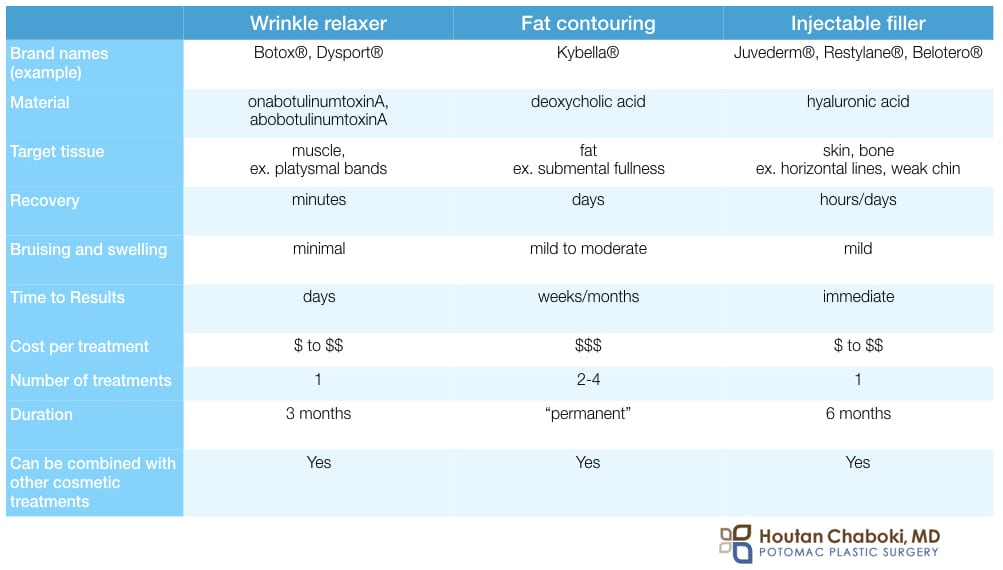 Have you considered improving a weak or double chin, but not ready for surgery? You can speak with a facial plastic surgeon, who performs both surgical and non-surgical procedures to receive an honest opinion on what is the best option for you. Share your thoughts below.