Potomac Plastic Surgery: Houtan Chaboki, MD
2311 M Street, N.W. Suite 501
Washington, DC 20037
Phone: (202) 800-2085
Monday - Friday: 8 a.m.–4 p.m.

Dermal Filler used to improve the appearance of smile lines in a middle-aged woman
*Keep in mind that each patient is unique and your results may vary.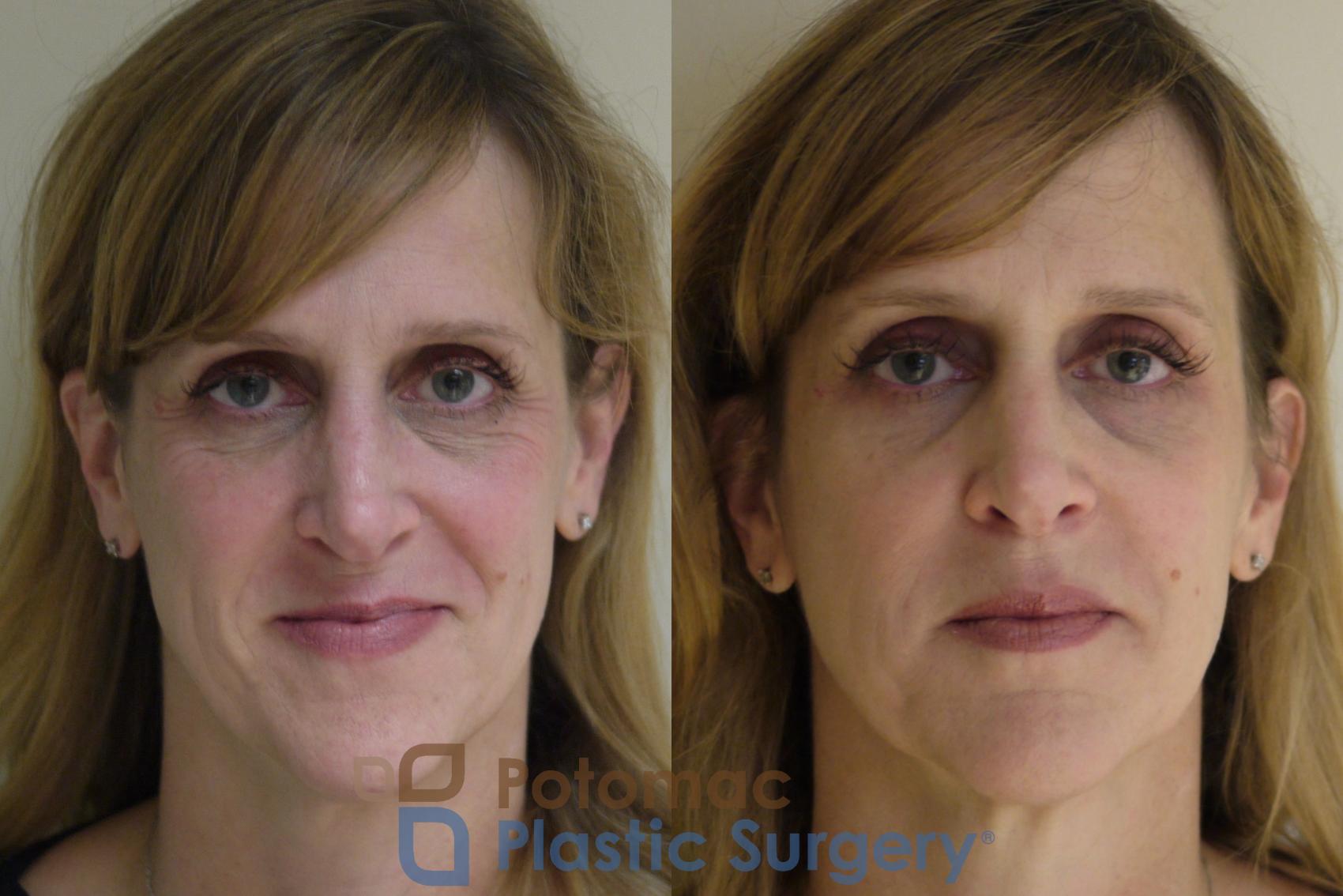 Before & After

The facial skin and tissue falls and shrinks with age. Plastic surgeons primarily treat the tissue falling by lifting (ie. facelift, brow lift, etc) and the tissue shrinking by filling (ex. filler or fat injections, implants). Other broad aesthetic treatment categories including relaxing (ex. Botox®, Dysport®) and resurfacing (ex. chemical peel and lasers) the face.
Everyone loses a certain amount of facial fat with age, which can be accelerated from stress, sun damage, smoking, and medical conditions. As a result, tissue filling with dermal fillers (ex. Restylane® and Juvederm®) are very popular office treatments, second only to wrinkle relaxers (ex. Botox®, Dysport®). Facial fillers provide immediate improvement of folds and wrinkles from volume loss. Fillers can be placed in a variety of areas, including the lips, smile lines, eye bags, temple areas, and cheeks.
This Washingtonian woman consulted with Dr. Chaboki to review options to improve her appearance naturally, without an "overdone" look. She didn't want surgery at this time in her life. Wrinkle relaxers and fillers were suggested as part of a cosmetic treatment plan. She underwent Juvederm® treatment for the smile lines around the mouth. She looks like herself but refreshed after treatment. These non-surgical cosmetic treatments can be started in younger patients and continued for years to help prevent and maintain a refreshed appearance.
Procedures Performed
About This Patient
View All Patient Photos