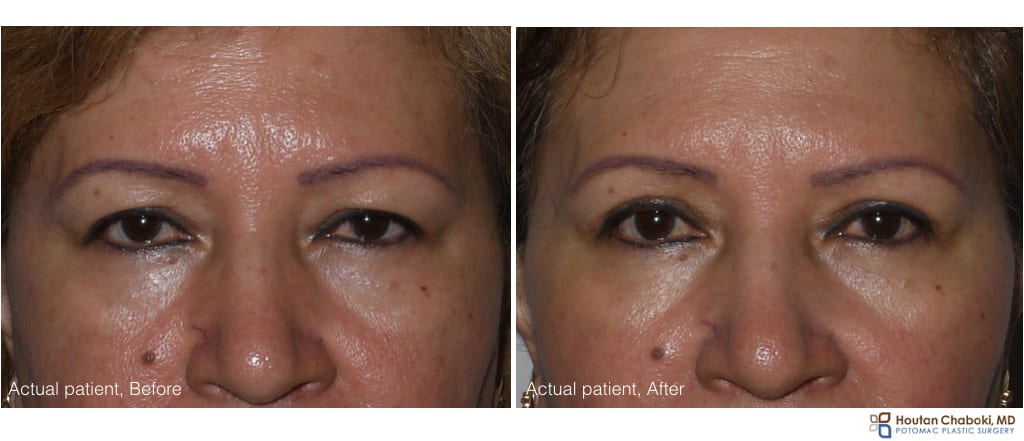 The eyes are the first thing one should see when looking at a person's face. This is the reason why plastic surgery is often focused around the eyes. Either with non-surgical treatments (ex. Botox, Restylane, etc) or cosmetic surgery, plastic surgeons often try to bring attention to the eyes and reduce attention to factors that distract from otherwise beautiful eyes.
Unless it's for rhinoplasty or chin augmentation, patients typically start to consider cosmetic facial procedures in their 20's and 30's for age related changes to their facial appearance. At this younger age, wrinkle relaxers (ex. Botox, Dysport, Xeomin) and facial fillers (ex. Restylane, Juvederm, Belotero) are primarily used to improve wrinkles and dark circles around the eyes. Later around age 40's, men and women start to consider eyelid lift surgery, in addition to the wrinkle relaxers and facial fillers.
Upper eyelid surgery, in particular, is a very satisfying surgery for patients. Eyelid surgery of the upper eyelid is a minor procedure performed vial local anesthesia that removes a conservative amount of skin, muscle, and/or fat to rejuvenate the eyes. After upper eyelid surgery, one's eyes appear more open and rested. Eyelashes become more visible too, which is youthful. Sometimes a brow lift is combined with upper eyelid surgery for an enhanced appearance.
Upper eyelid surgery should be considered before or with a face or neck lift procedure. – Houtan Chaboki, MD
Share your thoughts below.