Plastic surgeons are not chronic pain specialists. Plastic surgeons do, however, specialize in scar management, which includes prevention and treatment for scars that have not healed ideally. Dr. Chaboki sees scar patients who have not healed well from other surgeries to offer options to improve appearance and pain symptoms as appropriate.
Chronic or long-term scar pain can occur from any surgery for many reasons, some of which are not fully understood. Some evidence shows increased nerve fiber density in painful scars. Scar tissue can also pinch or compress nerves, leading to pain. These scars may also appear more elevated, thick, red, or irritated due to suboptimal healing.
A majority of plastic surgery patients with a healthy healing pattern have discomfort or pain initially, which typically resolves along with the swelling and bruising. While uneventful skin healing takes a full year or longer to complete, a majority of pain occurs within the first few days after surgery and gradually subsides. Suboptimal healing can take longer and result in scars that may be raised, red, itchy, and painful. These are signs that the healing is not progressing as it should and intervention may be necessary.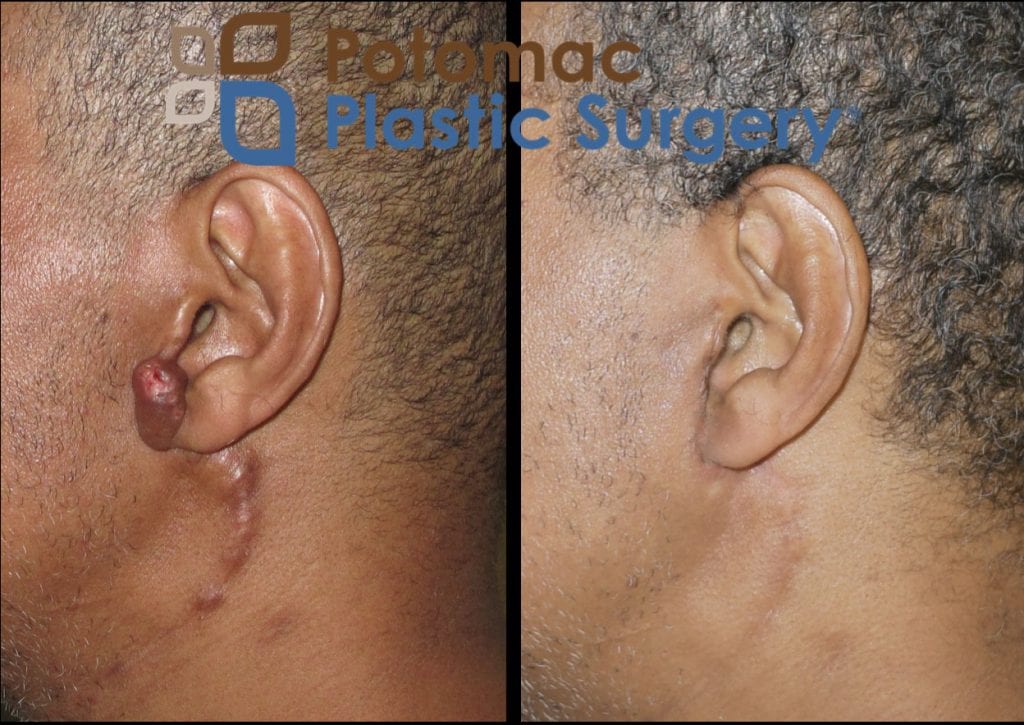 Scars can cause chronic pain, even without symptoms of underlying nerve damage. Fortunately, long lasting pain in surgical scars has a low prevalence with an estimated incidence rate of less than 2%. Scar pain is more likely to occur in patients after burns or traumatic injuries, such as dog bites or falls, rather than in those who have undergone elective surgery.
Patients should always speak with their primary care physician and primary surgeon, especially in the early phases of recovery after surgery. The primary surgeon may refer patients to a plastic surgeon for scar evaluation and management. Regardless of the cause of scars, plastic surgeons can assign different treatment options to help with scar pain management.
Painful scars reduce the quality of life for patients and there is no universally effective treatment. Potomac Plastic Surgery offers patients nonsurgical methods that may help improve scar pain without narcotics or numbing medication such as lidocaine. These nonsurgical treatments for pain are quick office procedures that can be repeated as needed, with scars responding gradually over time after each treatment. Read more about our nonsurgical scar treatments in our blog. We also network with chronic pain specialists to help manage pain.