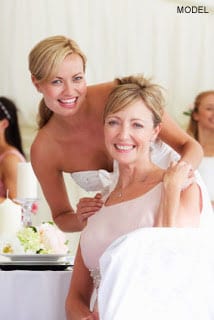 Weddings consume a tremendous amount of time, energy, and money for all involved. A wedding is a joyous event, but the planning and execution of a wedding is a stressful period of time. While it's the bride's moment to shine, everyone wants to look their best, especially the mothers of the bride and groom. These mothers may have always considered eyelid surgery or Botox, become especially proactive to reduce wrinkles and sagging skin before the big day.The cosmetic surgery options for the mothers of the bride and groom are similar for all women their age. The main difference is timing and recovery time prior to the wedding. While even a little bit of healing still occurs months after surgery, they should be appropriately healed up before making any public appearances. In addition, a buffer time is allowed in the timeline below in case unexpected events occur, or in case a minor touch-up is required.
Below is general timeline for cosmetic procedures before the big wedding day:
ASAP  basic skin care should be started immediately, regardless of any other plastic surgery treatment, as this usually takes a couple months to notice an effect and improves the results of any other treatment. Basic skin care includes: stop smoking, adequate hydration, sun avoidance, appropriate rest, healthy diet/exercise, gentle skin cleansers, tretinoin and/or other ointments. Read our prior blog post on routine skin care
>3 months  facelift, neck lift, cheek lift
2 months  upper or lower eyelid surgery, brow lift, neck liposuction, laser resurfacing, chemical peel
1 month  facial fillers, such as Restylane, Juvederm, Belotero, Radiesse, Sculptra for cheek enhancement, lip injection, eye bags, smile lines, etc
2 weeks  Botox, Dysport, Xeomin
It's become more common nowadays to have plastic surgeons and dermatologists as a trusted person to help develop a treatment plan. The cosmetic specialist will tailor procedures based on your age, skin condition, personal preferences, and the wedding date.
We'll talk about the brides and grooms getting plastic surgery in a future post. Please share your thoughts below.