3 Lesser-Known Benefits of Eyelid Surgery
Eyelid surgery has become a popular plastic surgery procedure at my Washington, DC, practice for individuals seeking to rejuvenate their face, reduce the appearance of "bags" under their eyes, and look less tired. While aesthetics are a key reason for undergoing eyelid surgery, there are also a number of lesser-known benefits that patients may receive from the procedure. I'm sharing 3 of these benefits and the reasons behind each.
1. Improved eyesight: One of the greatest concerns that patients seeking an upper eyelid blepharoplasty have is impaired vision. The weight and volume of the extra tissue in the eyelids can cause them to droop over the eyeball, obstructing eyesight. With the removal of this extra tissue, a patient's line of vision may be greatly improved.
2. Alleviated muscle strain: Muscles in the forehead and around the eye area often have to work extra hard to counteract the weight of the eyelid dropping over the eyeball. This strain can cause muscle soreness, headaches, and even amplify the appearance of wrinkles in the area. While you may not realize it, extra eyelid tissue could be the culprit of many irritations.
3. Increased confidence: After your eyelid surgery, you'll not only feel more confident about your appearance, but you won't have to worry about impaired vision, smeared eye shadow, or other daily frustrations. Consider some of the events throughout our lives, whether they be photo opportunities with friends or momentous occasions. With wedding season fast approaching, now is an optimal time for mothers and fathers of brides and grooms to consider the treatment, as I've discussed in a previous blog post.
To learn if you're a candidate for eyelid surgery contact our practice soon. We'll provide you with information about the procedure, and the details you need to learn if it is right for you.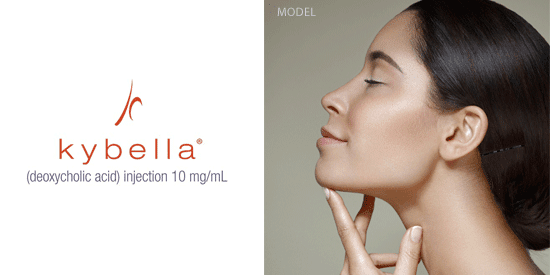 Treat a Double Chin with KYBELLA®
Summer is right around the corner, which means it's time for tank tops, t-shirts, and low neck lines. For many people with extra fat in their neck, this wardrobe change is less than welcome. Luckily, there is a new solution called KYBELLA. With a recent FDA-approval, KYBELLA works to permanently dissolve and reduce the fat the causes a double chin.
The extra fat that creates a double chin can be caused by a few factors including genetics and weight gain. Unlike fat in other areas of the body, this area often does not respond well to diet and exercise. No matter how fit your figure is, the fat around your neck may not budge. KYBELLA is powerful enough to treat this area.
KYBELLA is an injectable product that is placed into the neck in a grid pattern. Once injected, it targets fat cells and kills them. Then, the body's natural processes remove those unwanted cells from the body, leaving you with a smoother neckline. It could be the long-term solution you've been looking for!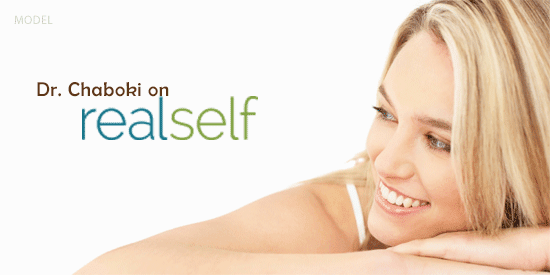 Dr. Chaboki Named Top Doc From RealSelf.com
Last month Dr. Chaboki was recognized by RealSelf.com as a "Top Doc". This recognition is awarded to less than 10% of doctors active in the RealSelf community, and shows Dr. Chaboki's dedication to his patients and his field.
RealSelf.com is a website dedicated to connecting current and potential patients with doctors. It provides community members with answers and education about the treatments and procedures they seek, and allows them to communicate with both doctors and each other to share their experiences. If you're interested in learning more about any treatment or procedure, join the RealSelf community.